So, I was looking around Google and I "Googled" The name "Adventure Bay", I found this indoor Water Par Called Adventure Bay, in Windsor, Ontario, CA, Since I noticed most Voice Actors are from Canada, I thought maybe this was their naming idea. I have no other proof of course, this is only a Theory, I'm gonna make a poll, please vote, if you can:
Is The PAW Patrol's location based off of Adventure Bay Water Park?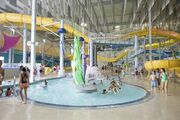 Ad blocker interference detected!
Wikia is a free-to-use site that makes money from advertising. We have a modified experience for viewers using ad blockers

Wikia is not accessible if you've made further modifications. Remove the custom ad blocker rule(s) and the page will load as expected.