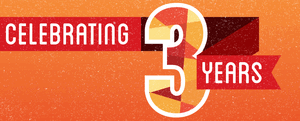 Today marks 3 years since I first contributed to the PAW Patrol Wiki.
It was so different during that time period; and I'm not just talking about our wiki. The show, the people, Wikia, just life in general. It was a special time period for me. Just a month and one week after joining this wiki, while watching the 2014 Royal Rumble, I opened my email to see that my user rights had been changed to administrative status. I was so happy and equally shocked. I had never been an admin of a wiki until this point. About 2-3 months later, I was given full authority of the website. Ever since December 19, 2013, I have tried my absolute best to help make this wiki one of the best wikis in the entire Fandom database, and I truly believe we've done that. Three years ago, we were just a basic wiki with an orange layout, less than 20 pages and an extremely simplistic page setup, and look where we are today. I am so satisfied to see how far we've come since I first joined. Soon (you'll only hear this here), we will be introducing an updated background for the wiki, including Everest and Tracker, as many have requested. It will be similar to the one we have now, but will look much sleeker and professional, and will also work better with various zoom and display settings.
Since I first became a fan of the PAW Patrol and joined this wiki, I have met some of the friendliest and smartest people, some of which remain very dear friends to this day. The few people that I trusted enough to enlist as admins here have done an outstanding job maintaining the wiki with me, and I am forever grateful. I truly believe we will be in good paws if I were to leave, which isn't happening anytime soon. As long as I am able, you will always see my name floating around in the recent wiki activity.
At times I feel like I've been too strict on some users who have improperly edited here, but I want others to understand that actions must sometimes be taken to keep this wiki neat, tidy, and true. Thousands of people all around the world visit us each day for various reasons, and I will always be honored to know that I oversee it all. Even though I am also the head administrator of two other wikis, I will always enjoy working for this one the most.
While I will likely be receiving congratulations on three years of work here from others, I also want to thank all of you for being there with me. You are all pawsome. Here's to many more years!
PAW Patrol is on a roll!
Ad blocker interference detected!
Wikia is a free-to-use site that makes money from advertising. We have a modified experience for viewers using ad blockers

Wikia is not accessible if you've made further modifications. Remove the custom ad blocker rule(s) and the page will load as expected.