Ladies and gentlemen, I have done it. I have officially retrieved the badge I have always wanted since I first joined this Wiki in January 2014. As of now, I have contributed to this wonderful Wiki for a full year! I feel so accomplished and happy. Tonight has been a near-perfect night for me already, and remembering about this was icing on the cake.
When I first joined the PAW Patrol Wiki, it looked like this:
And now, after I came into the picture, it looks like this: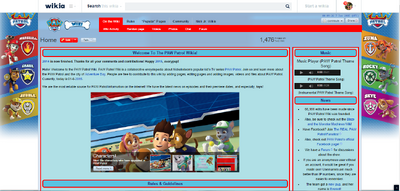 Look at how beautiful it is. This is all thanks to us. Not only me, but every single person who has pressed "edit" and "publish" on a page! The commenters, visitors, admins, you name it! I want to thank everyone for tolerating me during my time here. I'm not leaving, however I do think I need to take a break for a while. 365 days straight is quite an honor to have on your portfolio!
Before I end this momentous blog post, I just want to say one more time: Thank you!
Ad blocker interference detected!
Wikia is a free-to-use site that makes money from advertising. We have a modified experience for viewers using ad blockers

Wikia is not accessible if you've made further modifications. Remove the custom ad blocker rule(s) and the page will load as expected.