Reposted from http://www.toynews-online.biz/news/read/paw-patrol-wheeled-toys-and-bags-on-the-way-from-sambro/043580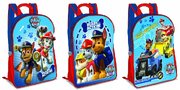 Paw Patrol wheeled toys and bags on the way from Sambro. Range will also span arts and crafts, novelty and pocket money products.
Sambro has signed a pan-European licensing deal with Nickelodeon for Paw Patrol product lines.
The cross category manufacturer will create a comprehensive range of Paw Patrol products spanning arts and crafts, novelty, pocket money, wheeled toys and bags.
The deal, which encompasses the UK and the rest of Europe, will see products feature Chase, Marshall, Rocky, Zuma, Rubble and Skye as well as their tech-savvy friend, Ryder.
"We are simply over the moon to have signed this deal," said Sambro MD Nikki Samuels.
"We have a fantastic relationship with Nickelodeon and will look to replicate the success of our other Nickelodeon licenses across the full Paw Patrol range. The Pan-European aspect of this deal will allow us to raise our profile even further as we continue to produce high-quality licensed toys."
Ad blocker interference detected!
Wikia is a free-to-use site that makes money from advertising. We have a modified experience for viewers using ad blockers

Wikia is not accessible if you've made further modifications. Remove the custom ad blocker rule(s) and the page will load as expected.