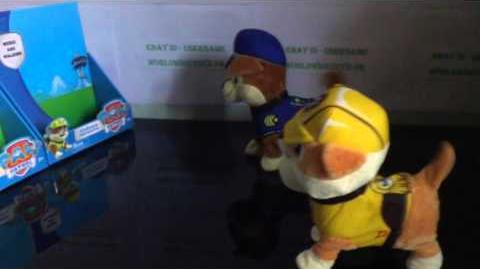 Like most fans, I'm always looking for PAW Patrol merchandise online. But beneath the amazing, official products lays the dark side: Bootlegs. Everything from Action Pack figures to Real Talking plushies have been ripped off by people that want to make a profit, but it is still pretty easy to tell if they are fake.
Look at the paws. If the plushies have the paw prints at the bottom, then they will probably be real. If they don't, you have a faker. Keep it in mind I have seen fakes with paw prints, but they were printed on.
If they look off model and nothing like the show, you could have a faker. Bad paint jobs, poor stitching or even the wrong colours are signs that Spin Master did not make or license the product. I have seen terrible, terrible things like a Ryder figure with red hair, a blue jacket and hands, and red legs.
Many fake plushies have a suction cup on their head. All real ones do not.
Knockoff Real Talking Pups are pretty different. They move their head, tail and legs, bark and play the theme song. The real ones just have a couple lines from the show and older ones have a light up badge.
Look at the packaging. Usually the colour scheme, box art and layout is different from Spin Master products. If that isn't enough, look for bad English. Common phrases used on knockoff boxart include 'The best welcome gifts for the children,' 'The more you play with me, the happier I will be,' and 'Happy every day'.
Is the price too good to be true? Pup Pals for £0.99 with free postage? Gimme a break. I'm seen them in Sainsbury's for £10.
Usually the playsets have weird themes like a parking lot, an amusement park and a castle. Although there are fake Lookout playsets available. 
If the toy features Katie, it is fake. There are currently no Katie toys out at the time of writing this post.
Usually the pups have generic or weird names, like a Rubble toy being labeled as "Walk Paw Patrol Toys Action Figures 24cm Patrulla Canina Toys - Yellow". 
What do you think of these fake toys? These are the reason I buy stuff from stores.