These are PAW Patrol toys made by Spin Master, that were released throughout Summer 2014 (US) and Spring/Summer 2015 (UK) , with additional toys coming in 2015. The toys set to be released are shown after the polls.
Polls
More toys are in devolopment, confirmed by Spin Master. Which toys do you think they'll make?
---
Mashems

Suggested Retail Price: $?
Pup Racers Board Game)

Suggested Retail Price: $59.99
Are you the fastest pup of them all? Find out with the Paw Patrol Pup Racers Game! It's non-stop ball-chasing racing fun! Chase and Rubble are racing up the track to fetch balls. Whoever collects the most, wins! Press the button as fast as you can to get your Paw Patrol Pup moving as fast as possible.
---
Paddlin' Pups (Bath Toys)

Suggested Retail Price: ?
---
PAW Patroller

Suggested Retail Price: $59.99
Chase's Pup Pack
---
Rescue Training Center
This playset was released in early 2015. This playset includes a Chase figure that can run, and a Chickaleta and Precious figure.
Suggested Retail Price: $24.99
---
Jumbo Action Pups

Suggested Retail Price: $19.99 (estimated)
---
PAW Patrol Look-A-Like Matching Card game
In this game you are have to match to chraracters with their matching picture.
Suggested Retail Price: $6.99
---
Ryder's Pup-Pad
In every episode of PAW Patrol, Ryder uses his Pup Pad™ to plan the team's moves. Play along with magnetic draw-and-erase creativity play!
Note: Recently, the Pup-Pad was changed to a set of sound effect-playing buttons.
Suggested Retail Price: $7.99
---
On-The-Go Activities Set
Create your own Paw Patrol adventures on the go! Paw Patrol On-The-Go Activity Sets are loaded with tons of craft activities! With 6 crayons, 13 activity sheets and multiple stickers and puzzles, kids can continue to play in Adventure Bay! And with your trusty Paw Patrol bag, it's easy to bring your entire activity kit anywhere you go. Includes: 6 Crayons, 13 Various Activities Sheets, 2 Create-A-Scenes, 8 Sticker Sheets, 2 Mix-Up Puzzles, and a Paw Patrol Tote.
Suggested Retail Price:
$14.99
---
Race to the Rescue Adventure Game
The Race to the Rescue Adventure Game is a simple race-to-the-finish path game for young children. Based on the Paw Patrol television series, players take control of one of six different pups and use the spinner to move along the path. Spinning a color allows you to move to the next available space of that color and collect a badge of that color. You can use the badge to take shortcuts further along the path. Whoever reaches the end of the path first wins the game. Some of the newer versions include a bonus Marshall figure.
Suggested Retail Price: $17.95
---
PAW Patrol Pup Buddies
A Target-exclusive 6 pack of figures. These figures are stationary, meaning they are in a certain position and can't move any legs.
---
PAW Patrol On-A-Roll Marshall & Chase
Just like in the TV series, Marshall's doghouse transforms into a deluxe fire truck! Put Marshall in the driver's seat and the vehicle extends, propelling Marshall forward with siren sounds and phrases from the show.
Suggested Retail Price: $24.99
---
Pup Pals
Snuggle up with your favorite pup! These soft 8" pups feature detailed outfits and embroidered eyes.
Suggested Retail Price: $9.99
---
Real Talking Plushies
These are advanced versions of the smaller pup pals, except they are bigger and can say 6 phrases. Marshall can speak in English only, while Skye, Chase, and Rubble speak both English and French.
Suggested Retail Price: $24.99
---
Lookout HQ Playset
Keep a look-out for danger with the Paw Patrol Deluxe Look-Out Playset! Watch Chase take the elevator to the top of the Paw Patrol Look-out as Ryder uses the real working periscope to search the surrounding area for danger. The Look-Out Playset is a playground for your child's imagination as they recreate incredible scenes from the Nickelodeon TV show! And when danger is spotted, they can race to the rescue by hitting the Paw Patrol badge to sound the alarm! Send them both down the wrap around slide and straight into their Rescue Vehicles! No job is too big and no pup is too small and now you can save the day with the incredible Paw Patrol Deluxe Look-out Playset! In the dark of night, in the light of day, the Paw Patrol will serve Adventure Bay!
Suggested Retail Price: $39.99
---
PAW Patrol Rescue Vehicles
Every Paw Patrol pup has a signature vehicle with classic preschool themes like police officer, fireman, and construction worker. Keep the team together with the full assortment of Paw Patrol Rescue Vehicles! Vehicles feature simple features and accessories like moving ladder or traffic cones. Each comes with an articulated pup figure!
Suggested Retail Price: $12.99
---
Rescue Racers
These free-wheeling vehicles feature Ryder and the pups at an affordable price point for the youngest Paw Patrol fans! Each Paw Patrol Racer™ includes a pup or figure molded inside that hero's signature vehicle.
Suggested Retail Price: $4.99
---
Action Pack Pups
In every episode of PAW Patrol, the pups save the day with cool gadgets that pop out of their backpacks! Every figure comes with a push-button transforming backpack and a kid-sized snap-on Role Play badge!
Suggested Retail Price: $6.99
---
Gallery
Videos
This video gives us an in-person look on how some of the toys function, with some information on where the toys will be sold.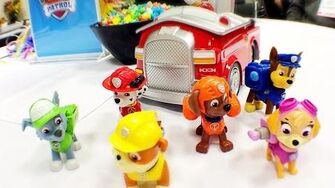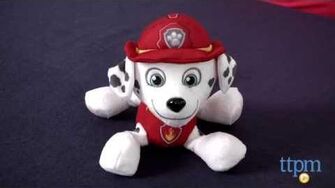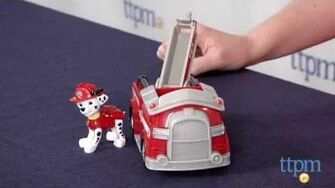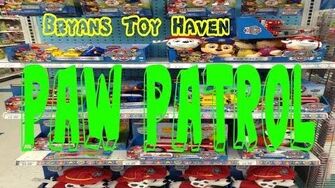 Extras