For the game in which the song is played, see Pup Pup Boogie (game).
For the episode, see Pup Pup Boogie.
Pup Pup Boogie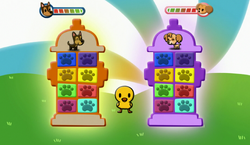 From Season 1, Episode 4A "Pup Pup Boogie"
This is the song that is played when the game Pup Pup Boogie is activated/played. The same song is present in both versions of the game. The song may have lyrics, or may be used as an instrumental in an infinite loop until the game is turned off.
The song is often sung by the pups (such as Marshall and Rubble) while cleaning, walking, etc.
Lyrics
Do the Pup Pup Boogie
Shake it, move it
Show 'em that you got that Pup-Pup stuff
Do the pup Pup Pup Boogie
Shimmy, groove it
Can't get enough, can't get enough