Pup Like Me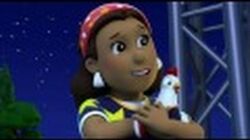 From Season 2, Episode 25A "Pups Save the Woof and Roll Show"
"Pup Like Me" is a song that Rubble and Luke Stars sang in "Pups Save the Woof and Roll Show".
Lyrics
A pup like me likes a pup like you
Whatever you are up to is all I want to do
I hear your bark, can't wait to see
A pup like you, you're the pup for me
A pup like me, a pup like me
I'm a happy hound whenever you're around
A pup like me, the happiest dog around
Ad blocker interference detected!
Wikia is a free-to-use site that makes money from advertising. We have a modified experience for viewers using ad blockers

Wikia is not accessible if you've made further modifications. Remove the custom ad blocker rule(s) and the page will load as expected.