For the episode in which the dog show is mentioned, see Pup-Tacular.
Under Construction

This article or section is "under construction". There needs to be more work and information added to this section/page before it can be considered satisfactory.
Pup-Tacular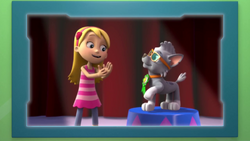 Rocky winning the contest.
The Pup-Tacular is a puppy show that any dog can compete in. Rocky won the Pup-Tacular with Katie in the episode "Pup-Tacular". An unseen character gave Rocky a ribbon. Only his hands are visible.