Welcome to the PAW Patrol Wiki!
Hello and welcome to the PAW Patrol Wiki, a collaborative encyclopedia about Nickelodeon's popular children's TV series PAW Patrol. Join us and learn more about the PAW Patrol and the city of Adventure Bay. People are free to contribute to this wiki by adding or editing pages and by adding images, videos and files relating to PAW Patrol. We are one of the most reliable sources for PAW Patrol information on the internet! We have the latest news on episodes, their premiere dates, and especially, toys!
Rules & Guidelines
In order to use this Wiki, you must abide by our rules. The general rules can be found here, and the rules for our chat can be found here. If you fail to follow the rules, you may have to suffer the consequences. We also have some rules and tips for editing pages. If you ever notice something suspicious about a user, or if someone is vandalizing the wiki, please report this to SonictheHedgehog1245, Hornean, SirBlaze, GoldenLatias6, Gman581996, Berkley Official, AlexThorne2001, Kittyfalcon, RockytheEco-pup, Tbrays30, Pablor or WithInVisibility. They'll take care of it from there.
Meet the Characters!

Meet and learn about the pups and their friends! Click on a character below to go to their page.


PAW Patrol Pledge

If you wish to join our wiki, you must understand the PAW Patrol's official pledge: "In dark of night, in light of day, we, the PAW Patrol, will serve Adventure Bay. From runaway trains to stranded whales, we'll rush to the rescue with wagging tails. If danger is near, just give a yelp! The PAW Patrol is here to help!"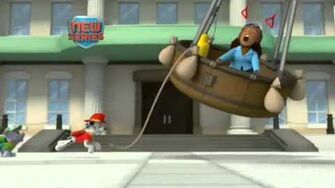 Weekly Poll
Weekly Polls from earlier weeks can be found in this archive. Here, you can vote on our fanbase name.
Week 21 (August 30)
If the original PAW Patrol was limited to five pups, which of the original six would you most easily relinquish from the series?
---
If you have any questions or concerns about the Weekly Poll, please contact WithInVisibility about them.
Circus Pup-Formers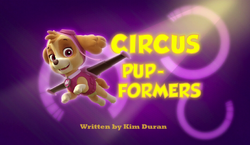 S1E14B: November 13,
2013
"Circus Pup-Formers" is the 2nd half of the 14th episode in Season 1 of PAW Patrol. It premiered on October 30, 2013 in Canada, November 13, 2013 in the US, and 25 March, 2014 in the UK.

The PAW Patrol, for the first time, must all work together to help Eunice and Ellie save the circus when most of the performers are late. Can the PAW Patrol help them?

---
---
(Bell dings)
Rocky: "My house! My house! Oh, it's on fire!"
Marshall: "I'll put it out!" (Sprays Rocky and Cali)
---
Featured Character: Katie
Katie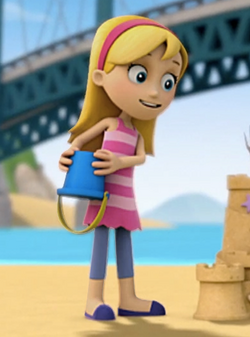 Adventure Bay Vet Clinic
veterinarian
Katie is a young girl who works at the Adventure Bay Vet Clinic. She is loving and caring. She also has a pet cat named Cali, who she is usually seen with.

Katie cares about animals and makes sure they are healthy, well-bathed, and happy. Katie is kind, loving and caring.

Katie has blonde hair with a red hairband with two pink hearts. She has blueish-green eyes. She wears a pink and purple striped shirt, blue short pants, and blue shoes. In "Pups Save a Pool Day," Katie wears a pink-striped bathing suit with a white skirt and red slippers. In "Pups and the Ghost Pirate," she dresses up as a witch.
Read More...
Featured Photo
Featured Photo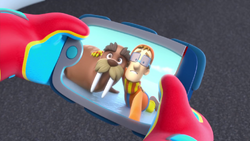 Cap'n Turbot
and
Wally
posing for a photo
Here is the featured photo for the homepage, which is updated periodically. This photo is worthy enough to show all of our new visitors! Want to see one of your favorite pictures as the Featured Photo? Send it to our main admin, SirBlaze, on his message wall! He will likely accept your request, as long as it meets our standards.
PAW Patrol Tour 2015
A road tour is underway across the United States! A real life PAW Patroller is heading to select locations beginning July 23, 2015. If you see the PAW Patroller, you might be able to meet Marshall and Chase!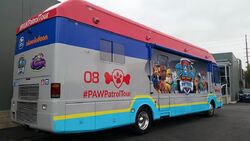 PAW Patrol Wiki on Twitter!
News
NEXT EPISODES:
---
95,820 edits have been made since PAW Patrol Wiki was founded on August 1, 2013.
Have Facebook? Like our Facebook page! Also, join the Real PAW Patrol Fanatics and check out PAW Patrol' on Facebook!
Also, follow us on Twitter!
If you are an anonymous user without an account, it would be great if you made one! Usernames are much easier to remember than IP numbers.
Music
Music Player (PAW Patrol Theme Song)
Unfortunately, due to security precautions initialized by a recent Wikia hack, the YouTube player feature has been disabled. We will be removing this section soon. We apologize for any inconvenience.
Did You Know?
Ursula Ziegler Sullivan has written the most episodes for the series.
For the series' second season, Chase has new Super Spy gear and Marshall has new medical gear. Zuma also has a new submarine.
The original copyright for this show was filed on March 7, 2012.
According to trademarks filed by Spin Master, the "PAW" in PAW Patrol stands for either "Pups At Work" or "Protect And Wag."
Featured Video
PAW Pa-Polls
Check out some more polls here!
Is it hard for you to find toys?
Wiki Activity
To see what's been going on at the Wiki, click here.