Welcome to the PAW Patrol Wiki!
Hello and welcome to the PAW Patrol Wiki, a collaborative encyclopedia about Nickelodeon's popular children's TV series PAW Patrol, which began on August 12, 2013. Join us and learn more about the PAW Patrol and the city of Adventure Bay. People are free to contribute to this wiki by adding or editing pages and by adding images, videos and files relating to PAW Patrol. We are one of the most reliable sources for PAW Patrol information on the internet!
With pages containing info about characters, episodes, locations, toys, voice actors, writers, international dubs, timelines & more, the PAW Patrol Wiki is the place to explore!
Rules & guidelines
In order to use this wiki, you must abide by our guidelines, which can be found here, and the guidelines for our chat can be found here. If you continuously fail to follow the rules, there may be consequences. We also have some guidelines and tips for editing pages. If you ever notice something suspicious about a user, or if someone is vandalizing the wiki, please report this to SirBlaze, Tbrays30, SonictheHedgehog1245, or MarshallsiAnjingBomba. They'll take care of it from there.
Meet the characters!

Meet and learn about the pups and their friends! Click on a character below to go to their page.





PAW Patrol pledge

To be a part of the "PAWpulation", you should follow the PAW Patrol's official pledge: "In dark of night, in light of day, we, the PAW Patrol will serve Adventure Bay. From runaway trains to stranded whales, we'll rush to the rescue with wagging tails. If danger is near, just give a yelp! The PAW Patrol is here to help!"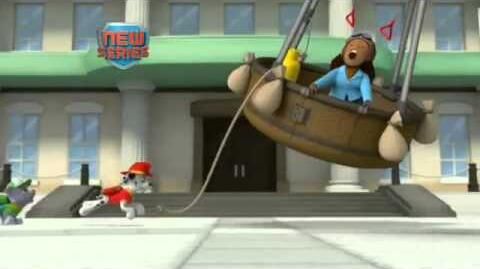 Pups Save Christmas

Season 1, Episode 11
"Pups Save Christmas" is the 11th episode in Season 1 of PAW Patrol.
Santa's sleigh crashes and breaks in a snowstorm on Christmas Eve, and all of the presents are scattered across Adventure Bay. It's up to the PAW Patrol to fix the sleigh, round up the reindeer, find the presents, find the magic star, and most of all, save Christmas for Adventure Bay.
Featured character (December 2017): Farmer Al
Farmer Al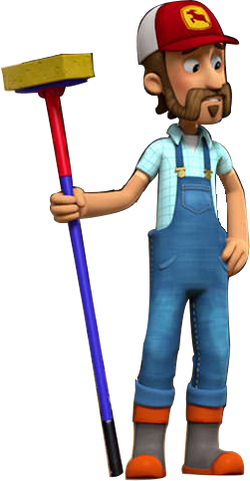 Farmer at Moo Juice Dairy Farm, husband of Farmer Yumi
Farmer Al is the farmer of Moo Juice Dairy Farm in Adventure Bay. He is the husband of Farmer Yumi, who he married in "Pups Save a Wedding". He also has a train, and takes care of his animals.
Farmer Al owns a few cows, such as Edwena and Bessie, and also has a couple of pigs (Emma and Corny). Farmer Al is the only character in PAW Patrol who speaks with a Southern accent. He is always thankful when someone helps him out. Like many farmers, he easily gets worried when his farm or animals seem to be in trouble.
Farmer Al has light colored skin, short brown hair, dark brown eyes and a beard with a mustache and a soul patch. He wears a John Deere-style hat (with red and white colors and a cow on it instead), and a pair of overalls covering a light blue plaid shirt. His cell phone has a cow print cover.
Featured toy (December 2017): Ryder's Pup Pad
Ryder's Pup Pad

Released in 2014.
No job is too big, no pup is too small! Now you can call the entire PAW Patrol using Ryder's Pup Pad! Just like in the show you can contact the PAW Patrol when an emergency arises. Choose your pup and press the button to hear over 15 PAW Patrol phrases! Whether it's Chase, Marshall, Skye, Rocky, Zuma or Rubble, all of your favorite PAW Patrol characters have unique sounds. Teamwork is only a button away! Race to the ruff-ruff rescue with Ryder's Paw Pad!









More wikis to explore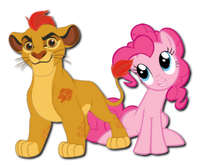 Disclaimer
The PAW Patrol Wiki is a fanmade and fan-administered website for educational purposes. No monetary revenue is being gained. PAW Patrol (and all of its entities & assets) belongs to Spin Master, Spin Master PAW Productions, and Viacom.
For information on Wikia's official Terms of Use, click here.
The PAW Patrol Wiki is in no way affiliated with any other PAW Patrol-themed wiki other than the PAW Patrol Fanon Wiki and the wikis listed upon the "Affiliated Wikis" tab of our navigation bar.
Twitter feed
News
NEXT EPISODES:
---
(11/17/2017): There will be a giant balloon of Chase flying at the 2017 Macy's Thanksgiving Day Parade!
(11/1/2017): We realized how difficult it was to add images and galleries to the PAW Patrol Wiki with our new image uploading format. Starting today, we will be going back to our old image uploading format until the new one exits beta.
(8/15/2016): A fifth season has been confirmed!
---
Did you know?
203,846 edits have been made since the PAW Patrol Wiki was founded on August 1, 2013.
A satirical version of PAW Patrol was featured in a skit on Adult Swim's Robot Chicken.
A 30 second PAW Patrol animated short recently aired on TV Land to promote the second season of The Jim Gaffigan Show.
Ursula Ziegler-Sullivan has written the most episodes for the series.
For the series' fourth season, Alex Thorne's younger brother Carter Thorne replaced him as Zuma's voice actor.
The original copyright for this show was filed on March 7, 2012.
According to trademarks filed by Spin Master, the "PAW" in PAW Patrol stands for either "Pups At Work" or "Protect And Wag."
Featured video
Featured photo (December 2017)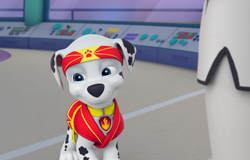 From Season 4, Episode 12B: "Pups Save Sensei Yumi"
PAW Pa-Polls
Check out some more polls here!
How do you feel "PAW Patrol" has progressed over its time?
in your opinion, what was the most outstanding season of PAW Patrol?
Wiki activity
To see the recent activity on the wiki, click here.
Community corner

Welcome to Community Corner on the PAW Patrol Wiki!
There are currently 7 active admins:
Feel free to contact them if you need anything! Have a happy time editing!
Ad blocker interference detected!
Wikia is a free-to-use site that makes money from advertising. We have a modified experience for viewers using ad blockers

Wikia is not accessible if you've made further modifications. Remove the custom ad blocker rule(s) and the page will load as expected.