Welcome to the PAW Patrol Wiki!
Hello and welcome to the PAW Patrol Wiki, a collaborative encyclopedia about Nickelodeon's popular children's TV series PAW Patrol, which began on August 12, 2013. Join us and learn more about the PAW Patrol and the city of Adventure Bay. People are free to contribute to this wiki by adding or editing pages and by adding images, videos and files relating to PAW Patrol. We are one of the most reliable sources for PAW Patrol information on the internet!
With pages containing info about characters, episodes, locations, toys, voice actors, writers, international dubs, timelines & more, the PAW Patrol Wiki is the place to explore!
Rules & Guidelines
In order to use this Wiki, you must abide by our guidelines, which can be found here, and the guidelines for our chat can be found here. If you continuously fail to follow the rules, there may be consequences. We also have some guidelines and tips for editing pages. If you ever notice something suspicious about a user, or if someone is vandalizing the wiki, please report this to SirBlaze, Tbrays30, SonictheHedgehog1245, Hornean, Shallchasemacky, Kittyfalcon, Pablor, MarshallsiAnjingBomba, DoctorOfLittlePatients or WithInVisibility. They'll take care of it from there.
Meet the Characters!

Meet and learn about the pups and their friends! Click on a character below to go to their page.





PAW Patrol Pledge

To be a part of the "PAWpulation", you must follow the PAW Patrol's official pledge: "In dark of night, in light of day, we, the PAW Patrol will serve Adventure Bay. From runaway trains to stranded whales, we'll rush to the rescue with wagging tails. If danger is near, just give a yelp! The PAW Patrol is here to help!"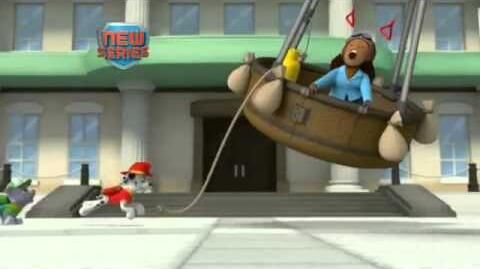 Weekly Poll (Trivia)
Note from Editor: It is encouraged that you try to answer these trivia polls from memory alone, as this is a test of how well you immediately know the series. Where is the pride in just finding the correct answer (which is provided after every week), and not being able to say, "I knew it"? Guessing is perfectly fine. Good luck.
ADVISORY:
(1) An overwhelming majority on one answer does not necessarily mean it is correct.

This fallacy has occurred repeatedly for this type of poll.

(2) Since this type of poll is for personal pride, it is rather pointless to vote repeatedly.
Week 60 (May 29)
With this being a trivia item, please answer once.

Which PAW Patrol vehicle was the fourth to be stolen? Only the first theft for each vehicle counts.
---
If you have any questions or concerns about the Weekly Poll, please contact
WithInVisibility
about them.
"Pups Save an Outlaw's Loot" is the 2nd half of the 20th episode in Season 2 of PAW Patrol. It premiered in the United States on May 12, 2015, and in the United Kingdom on 2 October 2015.
Ryder helps Mayor Goodway sort through the old cabin of Outlaw Wild Wilbur when they come across a map for his buried treasure. That treasure would be a fabulous addition to the Adventure Bay Museum! Mayor Humdinger has other plans; he snatches the map and runs off to find the loot for himself. Spy Chase's drone is launched to find the Mayor and pups track him through the forest. In his haste to beat the PAW Patrol, Mayor Humdinger travels across a dangerous old bridge, it collapses and he finds himself dangling over a deep canyon. Ryder calls in Everest and her grappling hook and the pups save Mayor Humdinger! As soon as he's back on solid ground, Humdinger takes off for the loot - again!
Featured Character (May 2016): Carlos
Carlos is a male character who debuted in "Pups Jungle Trouble." He is the second new character of Season 2. He is Ryder's 10-year-old pen pal from the Jungle, and is the soon-to-be caretaker of Tracker.
Carlos has a personality very similar to Ryder's. He loves going on adventures in the Jungle, discovering new things, and learning about the animals that inhabit the jungle.
Carlos is a bit younger than Ryder. He has tan skin with dark brown hair and blue eyes. He wears a beige fedora hat with a red and blue trim. He also wears an orange shirt, blue jeans, and brown boots.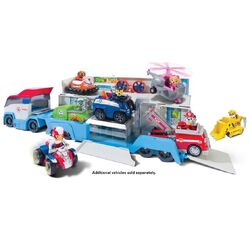 Released Summer 2015.
In the summer of 2015, a toy version of the PAW Patroller was released. This vehicle is able to hold six normal sized PAW Patrol toy vehicles and comes bundled with a Ryder figure and his ATV. Most of its windows and logos are stickers and must be applied on first. Many different sections of the vehicle including the cab can be opened to put a figure or vehicle inside.
More Wikis to Explore
PAW Patrol Wiki on Twitter!
News
NEXT EPISODES:
---
The PAW Patrol Wiki welcomes Shallchasemacky and DoctorOfLittlePatients to the admin team!
A new PAW Patrol Road Tour has been announced! Click on the link to read more info.
Not sure how to edit a page? See our new stencils on how to edit pages for episodes and characters. This guide explains our format in great detail.
Do you have a suggestion for our wiki to improve? Tell us here!
We now have premade edit summaries. This can be useful for when an editor has little time to edit.
The PAW Patrol Wiki now has a brand new color layout! If you have any complaints or experience any issues, please contact SirBlaze. Also, please contact him if the Wiki's contents appear to be in a square (the edges of our media should be rounded).
138,328 edits have been made since PAW Patrol Wiki was founded on August 1, 2013.
Have Facebook? Like our Facebook page! Also, join The REAL PAW Patrol Fanatics group for discussion with other fans.
Also, follow us on Twitter!
Did You Know?
Ursula Ziegler-Sullivan has written the most episodes for the series.
For the series' third season, Samuel Faraci has replaced Stuart Ralston as Rocky's voice actor.
The original copyright for this show was filed on March 7, 2012.
According to trademarks filed by Spin Master, the "PAW" in PAW Patrol stands for either "Pups At Work" or "Protect And Wag."
Featured Video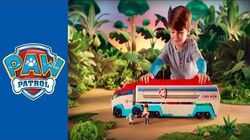 Featured Photo (May 2016)
PAW Pa-Polls
Check out some more polls here!
Do you expect PAW Patrol to be renewed for a 4th season?
How excited are you for the debut of Tracker in Season 3, in comparison to your excitement for Everest's Season 2 debut?
Wiki Activity
To see what's been going on at the Wiki, click here.
Community Corner

Welcome to Community Corner on the PAW Patrol Wiki!
There are currently 10 active admins:
Feel free to contact them if you need anything! Have a happy time editing!
Disclaimer
The PAW Patrol Wiki is a fanmade and fan-administered website for educational purposes. No monetary revenue is being gained. PAW Patrol (and all of its entities & assets) belongs to Spin Master, Spin Master PAW Productions, and Viacom.
For information on Wikia's official Terms of Use, click here.