Home
Talk

1
1,029pages on
this wiki
Welcome To The PAW Patrol Wikia!
Hello! Welcome to the PAW Patrol Wiki. PAW Patrol Wiki is a collaborative encyclopedia about Nickelodeon's popular kid's TV series PAW Patrol. Join us and learn more about the PAW Patrol and the city of Adventure Bay.
People are free to contribute to this wiki by adding pages, editing pages and adding images, videos and files about PAW Patrol.
Rules & Guidelines
In order to use this Wiki, you must abide by our rules. The rules for our wiki can be found here, and the rules for our chat can be found here. If you fail to follow the rules, you may have to suffer the consequences.
Reporting a User
If you see something suspicious about a user, or if someone's vandalising the Wiki, please report this to Wiki Nonny, Hornean, SirBlaze, Gman581996, Chaseisonthecase AlexThorne2001or TylerLovesJen. They'll take care of it from there.
Meet the PAW Patrol!
Meet and learn about the members of the PAW Patrol. Click on a character below to go to their page.
PAW Patrol Pledge
If you wish to join the PAW Patrol Wiki, and promise not to vandalize, say anything bad or nasty, and post anything un-PAW Patrol related, you must understand the PAW Patrol Pledge:
"In dark of night, in light of day,
We, The PAW Patrol will serve Adventure Bay.
From runaway trains to stranded whales,
We'll rush to the rescue with wagging tails.
If danger is near, just give a yelp!
The PAW Patrol is here to help!"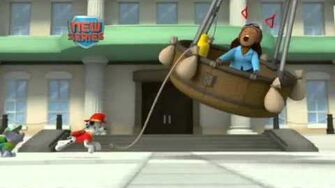 Featured Article
Pups and the Pirate Treasure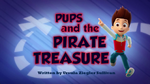 "Pups and the Pirate Treasure" is the 26th and final Season 1 episode of PAW Patrol. It premiered in huge USA on Monday, August 18, 2014 during Nick's Primetime hours.
Music
Music Player (PAW Patrol Theme Song)
(PAW Patrol Theme Song)
(PAW Patrol Theme Song (Instrumental))
Did You Know?
Captain Turbot has a cousin from France.
Ryder's full name is based off from a WWE wrestler.
Rocky is the only pup in the PAW Patrol who's breed is currently not known.
Chase has new Super Spy gear for Season 2.
The original copyright for this show was filed on March 9, 2012.
This show was originally going to be called "Ryder's Paw Patrol"
The "PAW" in PAW Patrol means either "Pups At Work" or "Protect and Wag", according to trademarks filed by Spin Master.
Featured Video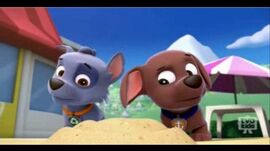 News
42,848 edits have been made since PAW Patrol Wiki was founded.
The PAW Patrol toys are FINALLY here! Be on the lookout for Zuma, Rocky and Skye toys. Those are the rare ones!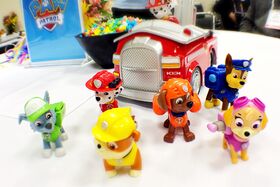 PAW Pa-Polls
Check out some more polls here!
Who is the most OVER-rated pup?