Welcome to the PAW Patrol Wiki!
Hello and welcome to the PAW Patrol Wiki, a collaborative encyclopedia about Nickelodeon's popular children's TV series PAW Patrol. Join us and learn more about the PAW Patrol and the city of Adventure Bay. People are free to contribute to this wiki by adding or editing pages and by adding images, videos and files relating to PAW Patrol. We are one of the most reliable sources for PAW Patrol information on the internet! We have the latest news on episodes, their premiere dates, and especially, toys!
Rules & Guidelines
In order to use this Wiki, you must abide by our rules. The general rules can be found here, and the rules for our chat can be found here. If you fail to follow the rules, you may have to suffer the consequences. We also have some rules and tips for editing pages. If you ever notice something suspicious about a user, or if someone is vandalizing the wiki, please report this to SonictheHedgehog1245, Hornean, SirBlaze, GoldenLatias6, Berkley Official, AlexThorne2001, Kittyfalcon, SmokythePolicePup, Tbrays30, Pablor, RaphBlade7, WildernessRescuerJonathan or WithInVisibility. They'll take care of it from there.
Meet the Characters!

Meet and learn about the pups and their friends! Click on a character below to go to their page.


PAW Patrol Pledge

If you wish to join our wiki, you must understand the PAW Patrol's official pledge: "In dark of night, in light of day, we, the PAW Patrol, will serve Adventure Bay. From runaway trains to stranded whales, we'll rush to the rescue with wagging tails. If danger is near, just give a yelp! The PAW Patrol is here to help!"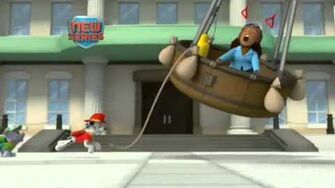 Weekly Poll
Weekly Polls from earlier weeks can be found in this archive. Here, you can vote on our fanbase name, and give us feedback about the wiki.
Week 33 (November 22)
In which of the following Marshall-focal half-episodes of the second season did you enjoy him the most?
---
If you have any questions or concerns about the Weekly Poll, please contact WithInVisibility about them.
Featured Episode (November 2015): Pup-Fu!
Pup-Fu!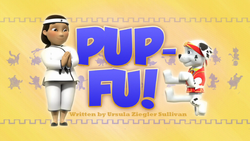 S2E19: October 16,
2015
"Pup-Fu!" is an episode in Season 2 of "PAW Patrol". It premiered in Canada on September 1, 2015, and in the United States on October 16, 2015.

Sensei Yumi is teaching all the pups the ancient art of Pup-Fu. The PAW Patrol and the mischievous kittens from Mayor Humdinger's Kit-tastrophe Crew are both competing for their belts when they come across an ancient scroll that holds all the secrets of the art. Mayor Humdinger steals the scroll and the PAW Patrol is called upon to find and return it to back to Sensei Yumi. It can be dangerous in the wrong hands, so Chase's drone tracks the sneaky Mayor to his secret lair, while Zuma helps them enter by a hidden cave in the water. Super Pup-Fu student Marshall sneaks in quiet as a mouse and together they get the scroll back where it's supposed to be.

Featured Character (November 2015): Cap'n Turbot
Captain Horatio Turbot (usually identified as Cap'n Turbot) is a human character on PAW Patrol. He takes residence at the Seal Island Lighthouse, which he owns.

Cap'n Turbot is very goofy. He is similar to Marshall in terms of being clumsy, silly, and funny. He knows plenty in regard to bodies of water, such as the Bay and its channels. Cap'n Turbot is also very quick to panic in problematic situations. He has a French cousin named Francois. Cap'n Turbot owns the lighthouse at Seal Island and has a responsibility to keep the light functional, though in "Pups in a Fog," the PAW Patrol had to assist him when it had burnt out and he had been unable to replace it. 

Cap'n Turbot has light skin, brown hair, and wears blue colored square-shaped eyeglasses. He also wears a red toboggan hat to cover his hair, a light blue-colored polo shirt with yellow overalls covering it and dark brown boots.
Read More...
PAW Patrol Wiki on Twitter!
News
NEXT EPISODES:
---
Did You Know?
Ursula Ziegler Sullivan has written the most episodes for the series.
For the series' second season, Chase has new Super Spy gear and Marshall has new medical gear. Zuma also has a new submarine.
The original copyright for this show was filed on March 7, 2012.
According to trademarks filed by Spin Master, the "PAW" in PAW Patrol stands for either "Pups At Work" or "Protect And Wag."
Featured Video
Featured Photo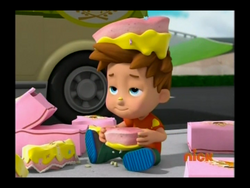 PAW Pa-Polls
Check out some more polls here!
How excited are you for the debut of Tracker in Season 3, in comparison to your excitement for Everest's Season 2 debut?
Wiki Activity
To see what's been going on at the Wiki, click here.