Welcome to the PAW Patrol Wiki!
Hello and welcome to the PAW Patrol Wiki, a collaborative encyclopedia about Nickelodeon's popular children's TV series PAW Patrol, which began on August 12, 2013. Join us and learn more about the PAW Patrol and the city of Adventure Bay. People are free to contribute to this wiki by adding or editing pages and by adding images, videos and files relating to PAW Patrol. We are one of the most reliable sources for PAW Patrol information on the internet!
With pages containing info about characters, episodes, locations, toys, voice actors, writers, international dubs, timelines & more, the PAW Patrol Wiki is the place to explore!
Rules & Guidelines
In order to use this wiki, you must abide by our guidelines, which can be found here, and the guidelines for our chat can be found here. If you continuously fail to follow the rules, there may be consequences. We also have some guidelines and tips for editing pages. If you ever notice something suspicious about a user, or if someone is vandalizing the wiki, please report this to SirBlaze, Tbrays30, SonictheHedgehog1245, Hornean, Pablor, MarshallsiAnjingBomba or DoctorOfLittlePatients. They'll take care of it from there.
Meet the Characters!

Meet and learn about the pups and their friends! Click on a character below to go to their page.





PAW Patrol Pledge

To be a part of the "PAWpulation", you should follow the PAW Patrol's official pledge: "In dark of night, in light of day, we, the PAW Patrol will serve Adventure Bay. From runaway trains to stranded whales, we'll rush to the rescue with wagging tails. If danger is near, just give a yelp! The PAW Patrol is here to help!"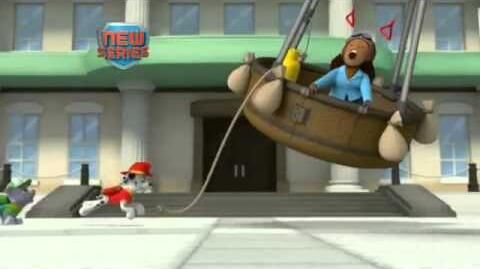 "Pups Save the Turbots" is the second segment of the 23rd episode in Season 1 of PAW Patrol.
Cap'n Turbot needs to get a picture of the rare Blue Footed Booby Bird. His French cousin, Francois Turbot, decides to help but gets caught on a cliff! It's up to the PAW Patrol to rescue him and bring the two cousins together again.
Featured Character (September 2016): Mr. Hudson
Mr. Hudson is a male human who runs and operates the train that goes through Adventure Bay. He works with the Train Station. In "Pups Save a School Bus", he was revealed to also be a bus driver, transporting the kids such as Alex and Precious' Owner to class.
As a gentleman, Mr. Hudson has done several jobs in Adventure Bay, but his main job is as a train engineer at the Train Station. In "Pups Save the Bay", he begin working as a boat captain. In "Pups Save a School Bus", he begin working as a bus driver to transport kids to school.
Mr. Hudson loves all of his jobs, but apparently takes the most pride in driving the school bus. In fact, he refers to the bus as "Louise".
Mr. Hudson has tan skin with blackish-brown hair, brown eyes and long sideburns. While operating the train, he wears blue overalls covering a white shirt and a red neckerchief. He also wears a blue striped railroad engineer hat, and has blue gloves. While operating the boat, he wears a red sweater with a blue sailor jacket with two yellow stripes on the sleeves. He also wears a grey captain hat. While operating the bus, he wears a light blue button-up shirt covered by a navy blue vest which has an orange and white tag on it. The orange dot also appears on the arm of his shirt and on his white and blue hat. His pants are also navy blue.
Featured Toy (September 2016): Monkey Temple playset
Monkey Temple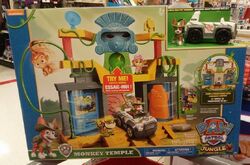 Released in 2016.
It's Tracker to the rescue in the PAW Patrol Monkey Temple Playset. This jungle-themed adventure includes the new PAW Patrol pup Tracker, his friend Mandy the Monkey, Tracker's vehicle and tons of fun! Move Tracker up the elevator, down the vines or through the trap door in his search for Mandy. Turn on the lights and sounds with the push of a button! Once the search is over, transform the Monkey Temple into a mission command center for the next mission! Collect all of the PAW Patrol Jungle Rescue pups and vehicles to recreate even more missions (each sold separately). PAW Patrol is on a roll with the Monkey Temple Playset!
More Wikis to Explore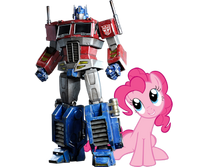 Disclaimer
The PAW Patrol Wiki is a fanmade and fan-administered website for educational purposes. No monetary revenue is being gained. PAW Patrol (and all of its entities & assets) belongs to Spin Master, Spin Master PAW Productions, and Viacom.
For information on Wikia's official Terms of Use, click here.
PAW Patrol Wiki on Twitter!
News
NEXT EPISODES:
---
Did You Know?
A satirical version of PAW Patrol was featured in a skit on Adult Swim's Robot Chicken.
A 30 second PAW Patrol animated short recently aired on TV Land to promote the second season of The Jim Gaffigan Show.
A fourth season has been confirmed.
Ursula Ziegler-Sullivan has written the most episodes for the series.
For the series' third season, Samuel Faraci has replaced Stuart Ralston as Rocky's voice actor.
The original copyright for this show was filed on March 7, 2012.
According to trademarks filed by Spin Master, the "PAW" in PAW Patrol stands for either "Pups At Work" or "Protect And Wag."
Featured Video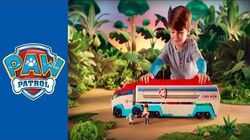 Featured Photo (September 2016)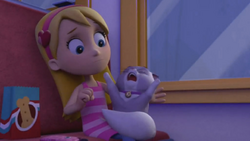 From Season 1, Episode 3B: "Pups Save a Train"
PAW Pa-Polls
Check out some more polls here!
How do you feel "PAW Patrol" has progressed over its time?
How excited are you for the debut of Tracker in Season 3, in comparison to your excitement for Everest's Season 2 debut?
So far, Build-a-Bear Workshop has released Chase, Marshall, Skye and Rubble plush toys. Who do you hope gets released next?
Wiki Activity
To see the recent activity on the wiki, click here.
Community Corner

Welcome to Community Corner on the PAW Patrol Wiki!
There are currently 7 active admins:
Feel free to contact them if you need anything! Have a happy time editing!