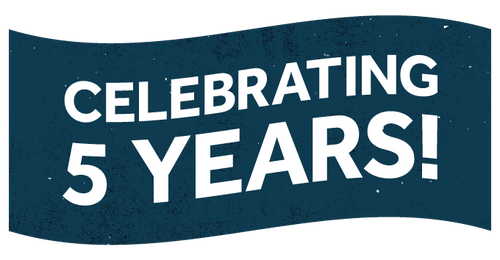 This month, PAW Patrol celebrates 5 years on the air! Also, this month is the 5th anniversary of the PAW Patrol Wiki's founding!
Welcome to the PAW Patrol Wiki!
Hello and welcome to the PAW Patrol Wiki, a collaborative encyclopedia about Nickelodeon's popular children's TV series PAW Patrol, which began on August 12, 2013. Join us and learn more about the PAW Patrol and the city of Adventure Bay. People are free to contribute to this wiki by adding or editing pages and by adding images, videos and files relating to PAW Patrol. We are one of the most reliable sources for PAW Patrol information on the internet!
With pages containing info about characters, episodes, locations, toys, voice actors, writers, international dubs, timelines & more, the PAW Patrol Wiki is the place to explore!
Rules & guidelines
In order to use this wiki, you must abide by our guidelines, which can be found here, and the guidelines for our chat can be found here. If you continuously fail to follow the rules, there may be consequences. We also have some guidelines and tips for editing pages. If you ever notice something suspicious about a user, or if someone is vandalizing the wiki, please report this to SirBlaze, Tbrays30, TopBanter, SonictheHedgehog1245, Afrojack29, or MarshallsiAnjingBomba. They'll take care of it from there.
Meet the characters!

Meet and learn about the pups and their friends! Click on a character below to go to their page.





PAW Patrol pledge

To be a part of the "PAWpulation", you can take the PAW Patrol's official pledge: "In dark of night, in light of day, we, the PAW Patrol will serve Adventure Bay. From runaway trains to stranded whales, we'll rush to the rescue with wagging tails. If danger is near, just give a yelp! The PAW Patrol is here to help!"

"Pups Fall Festival" ("Pups Autumn Festival" in the United Kingdom) is the second segment of the 1st episode in Season 1 of PAW Patrol.

Ryder and the PAW Patrol pups are super-excited about the upcoming Fall Harvest Festival. But when an early snowstorm threatens Farmer Yumi's crop - and the festival - Ryder and the PAW Patrol race against time - and weather! - to get all the fruit picked before the snow falls.
Featured character (August 2018): Jake
Jake

Owner of his snowboarding resort, caretaker of Everest
Jake is a snowboarder from Adventure Bay who operates the snowboarding resort. He is the caretaker of Everest.
Jake is the best snowboarder around. As previously mentioned, he owns the Snowboarding Resort, and he also can mimic deer calls. Jake is an expert snowboarder and rescues other snowboarders, though he will call in the PAW Patrol when the situation calls for it such as when Katie and Cali where stuck on the ski lift or when he and Alex end up trapped on a ledge. On at least two occasions his rescues by the PAW Patrol has lead to them gaining a new member, Rubble and Everest. In the past, after a young Rubble assisted the PAW Patrol in rescuing Jake who was trapped under some snow, leading him to ask Ryder if Rubble was a new member of the PAW Patrol, which gave Ryder the idea of having Rubble join the team as its construction pup. After Everest proved instrumental in helping Jake survive when he became stranded at the South Pole after he lost both his backpack and cellphone, Jake asked her to come live on his mountain with him as he could use her help rescuing snowboarders. She happily accepted and this led to her becoming the latest member of the PAW Patrol. Jake's status as a fellow rescuer and his close bond with Everest means that Jake will occasionally assist the PAW Patrol such as in "Pups Save the Deer".
Jake has pale skin, brown hair, and green eyes. He usually wears a green helmet or a blue toboggan with a green jacket with an orange zipper covering a red sweater. He also wears grey pants with brown boots. In Season 2, he wears an orange jacket with a green zipper covering a blue sweater. In "Pups and the Ghost Cabin", he wears a construction hardhat, a red vest with a white undershirt, green pants, and work boots.
Featured toy (August 2018): Marshall Action Pack Pup & Badge
Marshall Action Pack Pup & Badge

Released in 2014.
Official description (abridged):
---
Marshall is fired up and ready to save the day! This action-packed pup is one excited Dalmatian, ready to activate his transforming water cannons. Press his dog tag to transform his Pup Pack into a super-soaking water cannon just like in the show. Whether it's Chase, Rubble, Skye, Rocky or Zuma, each pup has a unique push button transformation. Discover the hero inside by joining the PAW Patrol and wearing the official Marshall fire badge that's included, because with PAW Patrol, no job is too big, no pup is too small!
More wikis to explore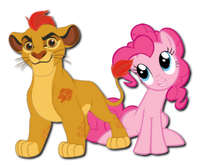 Disclaimer
The PAW Patrol Wiki is a fanmade and fan-administered website for archival and educational purposes. No monetary revenue is being gained. PAW Patrol (and all of its entities & assets) belongs to Spin Master, Spin Master PAW Productions, and Viacom.
For information on FANDOM's official Terms of Use, click here.
The PAW Patrol Wiki is in no way affiliated with any other PAW Patrol-themed wiki other than the PAW Patrol Fanon Wiki and the wikis listed upon the "Affiliated Wikis" tab of our navigation bar.
Twitter feed
News
Next episodes
Other news
Did you know?
231,089 edits have been made since the PAW Patrol Wiki was founded on August 1, 2013.
According to Xfinity, PAW Patrol was the most-requested show on their X1 viewing platform in the year 2017.
A satirical version of PAW Patrol was featured in a skit on Adult Swim's Robot Chicken.
A 30 second PAW Patrol animated short recently aired on TV Land to promote the second season of The Jim Gaffigan Show.
A sixth season has been confirmed.
Ursula Ziegler-Sullivan has written the most episodes for the series.
The original copyright for this show was filed on March 7, 2012.
According to trademarks filed by Spin Master, the "PAW" in PAW Patrol stands for either "Pups At Work" or "Protect And Wag."
Featured video
Featured photo (August 2018)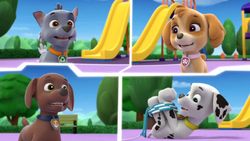 From Season 1, Episode 3B: "Pups and the Kitty-tastrophe"
PAW Pa-Polls
Check out some more polls here!
How do you feel "PAW Patrol" has progressed over its time?
in your opinion, what was the most outstanding season of PAW Patrol?
Wiki activity
To see the recent activity on the wiki, click here.
Community corner

Welcome to Community Corner on the PAW Patrol Wiki!
There are currently 8 admins:
Feel free to contact them if you need anything! Have a happy time editing!