Home
Talk

1
1,353pages on
this wiki
Welcome To The PAW Patrol Wikia!
Hello! Welcome to the PAW Patrol Wiki. PAW Patrol Wiki is a collaborative encyclopedia about Nickelodeon's popular kid's TV series PAW Patrol. Join us and learn more about the PAW Patrol and the city of Adventure Bay. People are free to contribute to this wiki by adding pages, editing pages and adding images, videos and files about PAW Patrol.
We are the most reliable source for PAW Patrol information on the internet! We have the latest news on episodes and their premiere dates, and especially, toys!
Rules & Guidelines
In order to use this Wiki, you must abide by our rules. The rules for our wiki can be found here, and the rules for our chat can be found here. If you fail to follow the rules, you may have to suffer the consequences. We also have some Editing Rules & Tips.
Reporting a User
If you see something suspicious about a user, or if someone's vandalising the Wiki, please report this to SonictheHedgehog1245, Hornean, SirBlaze, GoldenLatias6, Gman581996, Chaseisonthecase, AlexThorne2001, Kittyfalcon, or TylerLovesJen. They'll take care of it from there.
Meet the PAW Patrol!

Meet and learn about the members of the PAW Patrol. Click on a character below to go to their page.


PAW Patrol Pledge

If you wish to join the PAW Patrol Wiki, and promise not to vandalize, say anything bad or nasty, and post anything un-PAW Patrol related, you must understand the PAW Patrol Pledge: "In dark of night, in light of day, We, The PAW Patrol will serve Adventure Bay. From runaway trains to stranded whales, We'll rush to the rescue with wagging tails. If danger is near, just give a yelp! The PAW Patrol is here to help!"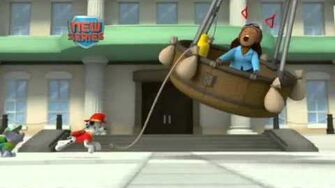 "The New Pup" is the 7th episode in Season 2 of PAW Patrol. It premiered on October 18, 2013 in Canada, and November 14, 2013 in the US.

Ryder surprises the pups with their newest vehicle - THE PAW PATROLLER! Now the PAW Patrol can save the day outside of Adventure Bay in this 18 wheeler, mobile Lookout! It's just in time too because Jake ends up lost in the south pole when he loses his equipment and phone - Pups to the rescue! While the pups race down, an Arctic storm picks up, but Jake finds help from a brave mountain ranger pup named Everest!

---
Jake: "You've met your match, fur face!"
---
Jake: "It's nice and dry in here...and your coat's so awesomely warm!
---
All pups: (singing) "83 boxes of treats on the wall, 83 boxes of treats, take one down, pass it around, 82 boxes of treats on the wall!"
---
Zuma: "Hey penguin! Nice suit!"
---
---
Featured Character: Everest
Everest is a female main character who debuted in the Season 2 episode "The New Pup." She is the PAW Patrol's snowy mountain pup, the 7th pup, and the 8th overall member of the team (including Ryder).

Everest lived on the south pole when she saved Jake, who was just about to fall off a snow cliff. Everest was then told about the PAW Patrol, whom she got to meet near the end of The New Pup. She was made an official member (with her own badge) by Ryder during a camping trip before the episode ended. So far, she is the 7th canine member of the team, and she is the 2nd female member. In future episodes, she is seen driving her very own snow plow vehicle.

Everest is a young husky pup. She has grey fur (similar in color to Rocky's) and has white fur on her paws, chest, and belly. Her tail also is grey, with white fur on the bottom. She has blue eyes and white ears. She also wears a toboggan that is yellow and teal in color. Her uniform consists of a teal jacket with a yellow trim, and white fluff. Her badge is bright blue and has an evergreen tree on it.
Read More...
Featured Photo
Here is the featured photo for the homepage, which is updated periodically (meaning every once in a while). This photo is worthy enough to show all our new visitors! Want to see one of your favorite pictures as the Featured Photo? Send it to our main admin, SirBlaze, on his message wall! He will likely accept your request, as long as it meets our standards.
Music
Music Player (PAW Patrol Theme Song)
(PAW Patrol Theme Song)
(PAW Patrol Theme Song (Instrumental))
News
Did You Know?
Ursula Ziegler Sullivan has written the most episodes for the series.
Chase has new Super Spy gear for Season 2.
Marshall has new medical gear for Season 2.
Zuma has a new submarine.
The original copyright for this show was filed on March 7, 2012.
This show was originally going to be called "Ryder's Paw Patrol"
The "PAW" in PAW Patrol means either "Pups At Work" or "Protect and Wag", according to trademarks filed by Spin Master.
The PAW Patrol has a big fanbase of teenagers and adults. This show isn't just for kids!
Featured Video
PAW Pa-Polls
Check out some more polls here!
Who is your favorite pup?
Who is your favorite administrator?
Are you an adult, teen or kid fan of the show?
Who is the cutest/most handsome voice actor?
Who's your favorite human?
Wiki Activity
To see what's been going on at the Wiki, click here.