Welcome to the PAW Patrol Wiki!
Hello and welcome to the PAW Patrol Wiki, a collaborative encyclopedia about Nickelodeon's popular children's TV series PAW Patrol, which began on August 12, 2013. Join us and learn more about the PAW Patrol and the city of Adventure Bay. People are free to contribute to this wiki by adding or editing pages and by adding images, videos and files relating to PAW Patrol. We are one of the most reliable sources for PAW Patrol information on the internet!
With pages containing info about characters, episodes, locations, toys, voice actors, writers, international dubs, timelines & more, the PAW Patrol Wiki is the place to explore!
Rules & Guidelines
In order to use this wiki, you must abide by our guidelines, which can be found here, and the guidelines for our chat can be found here. If you continuously fail to follow the rules, there may be consequences. We also have some guidelines and tips for editing pages. If you ever notice something suspicious about a user, or if someone is vandalizing the wiki, please report this to SirBlaze, Tbrays30, SonictheHedgehog1245, Hornean, Shallchasemacky, Kittyfalcon, Pablor, MarshallsiAnjingBomba or DoctorOfLittlePatients. They'll take care of it from there.
Meet the Characters!

Meet and learn about the pups and their friends! Click on a character below to go to their page.





PAW Patrol Pledge

To be a part of the "PAWpulation", you must follow the PAW Patrol's official pledge: "In dark of night, in light of day, we, the PAW Patrol will serve Adventure Bay. From runaway trains to stranded whales, we'll rush to the rescue with wagging tails. If danger is near, just give a yelp! The PAW Patrol is here to help!"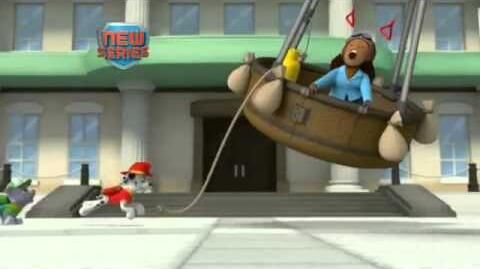 Weekly Poll (Opinion)
Week 62 (June 12)
Please answer once to respect the opinions of the overall community.

How do you feel "PAW Patrol" has progressed over its time?
---
LAST WEEK'S TRIVIA:
Which of the original pups was the last to be called as a first responder? All pup first responses are not counted.
Answer: Rocky. (28/168 people were correct)
"Pups Save a Floundering Francois" is the first half of the 22nd episode in Season 2 of PAW Patrol.
Cap'n Turbot and his cousin Francois are white whale watching in Adventure Bay when the Flounder hits a rock and starts to sink! This rescue will need all paws on deck ~ Chase's winch can pull the boat to the dock, while Rubble''s crane lifts one end for Rocky to repair. Once it''s back in ship shape, Francois steers the Flounder out to the bay. The only problem is a storm is brewing. Sure enough, he gets caught in wild weather and is tossed overboard! Another Flounder fiasco! Ryder and Cap''n Turbot rescue the unmanned boat while Zuma and Skye find Francois, riding the white whale!
Featured Character (June 2016): Cali
Cali

Katie's only pet cat
Cali is Katie's pet cat.
Cali may look sweet, but she's actually very sneaky. When she gets surprised or scared, she hisses and meows. Cali is somewhat spoiled and has a love of eating, to the point she will even eat Pup food and treats. Though she is occasionally antagonistic with the Pups and Chickaletta. Like most cats (and Rocky) she is shown to have an aversion to water, getting wet, and taking bath in a bathtub. However despite the fact she shares this fear of water with Rocky, she has no problem seeing him get wet or forced to take a bath in "Pups Make a Splash" when she kept thwarting Rocky's attempts to hide and avoid taking a bath, to the point she tried forcing him into the tub only to end up falling in herself. However despite her fear, she has a bad habit of lying on top of things like towels or other high structures near the bathtubs, which often causes her to fall in by accident. Cali also appears to enjoy stalking (and possibly hunting) the local seagulls. She can also shown to be jealous when Katie dotes on younger kittens like Precious. She has a friendly rivalry with Chickaletta. Though she can be somewhat antagonistic towards the Pups at times, she is for the most part friendly to them and is always grateful to them whenever they save her.
Cali has grey and white fur (with a hint of light lavender) and around her neck is a purple collar with a little golden bell. She also has navy blue eyes that match her fur.
Featured Toy (June 2016): Build-a-Bear Skye
In May 2016, Build-a-Bear Workshop released their third pup from the PAW Patrol line: Skye. She has optional gear clothing available and an optional voice box which says 4 phrases.
More Wikis to Explore
PAW Patrol Wiki on Twitter!
News
NEXT EPISODES:
---
Did You Know?
Ursula Ziegler-Sullivan has written the most episodes for the series.
For the series' third season, Samuel Faraci has replaced Stuart Ralston as Rocky's voice actor.
The original copyright for this show was filed on March 7, 2012.
According to trademarks filed by Spin Master, the "PAW" in PAW Patrol stands for either "Pups At Work" or "Protect And Wag."
Featured Video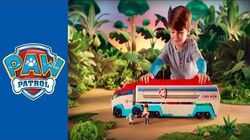 Featured Photo (June 2016)

From Season 1, Episode 17B: "Circus Pup-Formers"
PAW Pa-Polls
Check out some more polls here!
How do you feel "PAW Patrol" has progressed over its time?
How excited are you for the debut of Tracker in Season 3, in comparison to your excitement for Everest's Season 2 debut?
Wiki Activity
To see the recent activity on the wiki, click here.
Community Corner

Welcome to Community Corner on the PAW Patrol Wiki!
There are currently 9 active admins:
Feel free to contact them if you need anything! Have a happy time editing!
Disclaimer
The PAW Patrol Wiki is a fanmade and fan-administered website for educational purposes. No monetary revenue is being gained. PAW Patrol (and all of its entities & assets) belongs to Spin Master, Spin Master PAW Productions, and Viacom.
For information on Wikia's official Terms of Use, click here.