Stub

"Mission PAW Cruiser" is a stub article. You can help our fellow visitors by expanding it! A stub is a page that doesn't have enough information regarding the subject. Stub pages can be easily expanded by doing research on the topic and editing the page.
Mission PAW Cruiser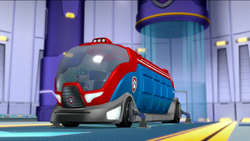 Robo-Dog inside the Mission PAW Cruiser!
The Mission PAW Cruiser is a vehicle that replaces the Lookout when the pups travel to another location such as Barkingburg. It made its first appearance in "Mission PAW: Quest for the Crown".
Appearance
The Mission PAW Cruiser has a red roof and blue body. It has a little touch of dark gray in the bottom of the body. There are three flashlights on the top of the body. There is a PAW Patrol logo on the side and the back with a smaller one in the front. There are four doors in each side of the vehicle, one for the entrance and the other three for the pups' vehicle.
Episode Appearances
Gallery
Mission PAW Cruiser (toy version)
This article or section is in need of expansion. Help the PAW Patrol Wiki by clicking edit and adding information and/or media. Please remove this template during editing if an expansion is being made.
Ad blocker interference detected!
Wikia is a free-to-use site that makes money from advertising. We have a modified experience for viewers using ad blockers

Wikia is not accessible if you've made further modifications. Remove the custom ad blocker rule(s) and the page will load as expected.