Marshall
Fire Pup

Vital statistics

Position
Firefighter Pup
Age
Unknown
Status
Dalmatian and Fire Pup

Voice Actors

US:
Gage Munroe
UK:
Noah Ashby
Marshall is a Dalmatian puppy and a member of the
PAW Patrol
. He is a male.
Bio
Marshall is a Dalmatian pup who is seen to be silly and clumsy. He is a firepup. He wears a firefighter's hat and rides a firetruck. Marshall is a fire pup and he loves to play with the other PAW Patrol members. Marshall never gives up. He is the most immature of the PAW patrol.
Nick Jr. Description
From the firehouse to his fire truck, Marshall is a Dalmatian who is all action, easily excited, and the clumsy one of the group. The pups will always hear Marshall say; "I'm okay!"
Personality
Marshall always crashes into a lot of things, which gives him the nickname "Bad Luck Marshall" from fans. He is not exactly well-coordinated. He's also is a bit air-headed and gets very excited. Aside from his clumsiness, Marshall is a loyal and brave member of the PAW Patrol. Marshall also loves birds, especially baby birds. He is best friends with Chase, and they sometimes bump or land onto each other in a few episodes. He is also good friends with Rocky as they were seen on a picture playing with a ball and in Pups Get a Lift they high-fived each other in the elevator.
Abilites
He is able to shoot water with his hose whenever he barks. He can go high places with his ladder in his vehicle.
Poll
What's your favorite thing about Marshall?
Appearance
Marshall is a Dalmatian puppy with bright blue eyes. His fire fighter gear is red; it has a red suit and fire fighter hat. His collar is yellow with a fire symbol on his tag. On his hat there is a small black torch and a yellow strip round the base of his hat.
Catchphrases
 *"I'm fired up!"
"Made it."
"I'm good."
"Ready for a ruff, ruff rescue!"
"Do my best, forget about the rest." (From Pups Fight Fire)
"Woah-woahhhhhh!"
"Aah! Ooh! Eee! Ahh! Oh! Ooh! Eee! Ooh! Ahh" (when falling down his ladder)
"I'm Ok!"
"Oof!"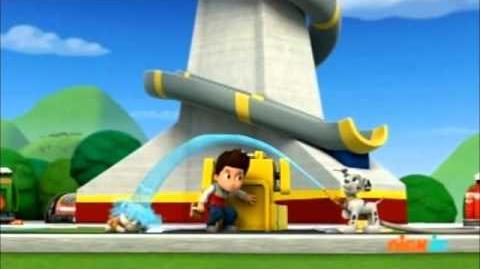 ---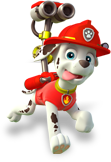 Marshall's gallery can be viewed here.
---
Marshall's Appeances can be viewed here.
---
Marshall's Trivia can be viewed here.