Marshall

PAW Patrol Member No.3 Fire-Pup, Marshall

Name

Marshall

Gender:

Male

Breed:

Dalmatian

Position:

PAW Patrol Member No.3, Fire Pup,

Status:

Alive

Likes:

To have fun with Ryder and the other PAW Patrol pups

Dislikes:

Flying really high up, Being last in the elevator, Crashing and bumping into things

Voice Actor:

Gage Munroe

Noah Ashby
Marshall is a Dalmatian puppy and is one of the protagonists in the TV series, PAW Patrol. He is one of the members of the PAW Patrol.
Bio
Marshall is a Dalmatian pup who is seen to be silly and clumsy. Despite of his silliness, he helps Ryder countless of times during missions
Nick Jr. Description
"From the firehouse to his fire truck, Marshall is a Dalmatian who is all action, easily excited, and the clumsy one of the group. The pups will always hear Marshall say; "I'm okay!"
Personality
In the PAW Patrol, Marshall is the joker of the group and tends to behave silly and clumsy. He is very accident prone and would usually crash and bump into things, which gives him the nickname "Bad Luck Marshall" from fans. He is not exactly well-coordinated, is a bit air-headed, and gets very excited.
Despite of his clumsiness, Marshall is a loyal and brave member of the PAW Patrol and he had helped Ryder and the other pups in several missions. Marshall is also very friendly, especially to birds.
Appearance
Marshall has white fur with black spots covering his body and he has bright blue eyes. During missions, Marshall wears a Firefighter helmet and a red vest. He wears a red backpack, which can transform into a fire hose.
Abilites
He is very quick with his actions. There is a silver two-jet hose in his pup-pack which can shoot water when Marshall activates it and says "Water hose! (cannon) Spray!". He can go high places with his ladder in his fire truck. He is very good at smelling gas leaks and smoke.
Poll
What's your favorite thing about Marshall?
Catchphrases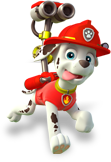 "I'm fired up!"
"Made it."
"I'm good."
"Ready for a ruff, ruff rescue!"
"Do my best, forget about the rest." (From Pups Fight Fire)
"Woah-woahhhhhh!"
"Aah! Ooh! Eee! Aah! Oh! Ooh! Eee! Ooh! Aah! I'm good!" (when falling down his firetruck ladder)
"I'm Ok!"
"Oof!"
Marshall's gallery can be viewed here.
---