Stub

"Hello, Adventure Bay!" is a stub article. You can help our fellow visitors by expanding it! A stub is a page that doesn't have enough information regarding the subject. Stub pages can be easily expanded by doing research on the topic and editing the page.
Hello, Adventure Bay!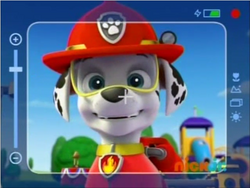 The camera crew films Marshall as he breaks the Fastest Fire Pup Record in "Pups Fight Fire"
Hello, Adventure Bay! is a semi-fictional television show that airs in Adventure Bay. This program showcases most of the cool/interesting events that go on in the city, like a news program would. The PAW Patrol watch this show when they are featured in it.
Covered Stories
Hello, Adventure Bay! has covered stories such as: