Toys
Chase has the following toys of himself and his police truck:
Vehicles
Chase's Cruiser
Chase's Jungle Cruiser
Chase's Three Wheeler
On-a-Roll Chase
Rescue Racers Chase
Figures
Chase & Marley Rescue Set
Winter Rescue Figure Set (with Rubble) (Target Exclusive)
Blind Bag Figure
My Busy Books Figure
Jumbo Action Pup
Action Pack Pup ($6.99)
Spy Chase + Penguins Rescue Set
Pup Fu Chase & Kitty Rescue Set
All-Stars Action Pack figure
Plush Toys
Keychain plushie
Cuddle Pillow Chase
Build-a-Bear Workshop Chase + accessories
This Chase can be stuffed by yourself, and can include multiple accessories and even a sound chip that plays when you squeeze his paw.
Pup Pal
Real Talking Chase Plush
Plush backpack
Bath Toys
Bath Squirter
Paddlin' Pup
Miscellaneous
Chase's Pup Pack (wearable)
Glasses
Mission Chase
---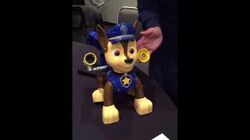 Rescue Training Center
Lookout HQ playset (includes Chase's car & figurine)
Ionix Jr. Sets
Weebles toy
Ad blocker interference detected!
Wikia is a free-to-use site that makes money from advertising. We have a modified experience for viewers using ad blockers

Wikia is not accessible if you've made further modifications. Remove the custom ad blocker rule(s) and the page will load as expected.